Any news, of club or members activity, will go here. Most things are allowed providing it's not waiting to go in Sprat. The reason being that there is no point in reading Sprat if you have read half of it here! Please send all website copy to G4WIF (and Sprat copy to G1TEX)
The Autumn 2022 Sprat is now being dispatched to members.
More Info......
Post GQRP Convention Update:
Folks
All those who paid for on-line access should now have the video links for the three talks. Please let me know if that is not the case.
As in the last two years, the videos will go on general release around Christmas time as a wee prezzie.
73, Steve, G0FUW
CLUB TROPHY WINNERS 2021
The Club now has eight trophies which are awarded annually. We also recommend who should receive the RSGB's G4STT memorial trophy.
The G2NJ Trophy is sometimes awarded for a really good technical article, and sometimes for an outstanding contribution to international QRP. This year's winner has done both with great contributions in SPRAT 187 and 188, and through his excellent books (available via Amazon) and his entertaining and informative YouTube videos. The winner is Peter Parker, VK3YE.
For the best SPRAT simple article we award the W1FB Trophy and this year's winner is Glen, VK3PE, for his Simple Solar Panel Current Monitor in SPRAT 186.

The Partridge Trophy, awarded for the best SPRAT antenna article, goes to Steve, G0KYA, for his piece in SPRAT 187 about his homebrew vertical and using it with QRP in the Commonwealth Contest.

The Gordon Bennett Trophy, for the best practical article in SPRAT, goes to Paul, 9H1FQ, for his ideas on using Project Building Blocks in Sprat 186.

The G3RJV Trophy is awarded for the best entry in the Club construction competition and this year it goes to Richard, G4TGJ, for his scratch-built SOTA transceiver. The judges were impressed by his attention to detail, current optimisation and construction craftsmanship, not to mention the on air achievements made with the radio.
A runners-up certificate was awarded to Gareth, G4XAT, for his QRP digital TV transceiver that he used during the Convention activity period to make a 70MHz full-colour TV QSO across town. The bringing together of various modules, a Raspberry Pi and an SDR to form a self-contained transceiver was an extremely impressive project. Both projects will be covered in more detail in future SPRATs

We have two more awards, the G4DQP Trophy for the Winter Sports and the Chelmsley Trophy for best log for the whole of 2021.
Details of those are in Peter's On-Air Activity column.

The Club made a nomination for the RSGB G4STT Trophy, which recognises significant contribution to QRP.
As it is their trophy, the winner was announced by the RSGB at their AGM in April
We are delighted to report that Ian Keyser G3ROO is the winner.

Congratulations to all of our winners and three cheers to everyone that took part.
The club now has its own callsign to activate on special occasions. More Info ...
New Club logos now available: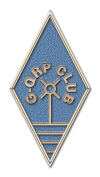 We are grateful to Phillipe F5SDT for providing these superb logos for use by club members for non commercial purposes. If Dropbox prompts you to log in - then you should select the cancel option - and then you will have access to browse the files.

There are nine new logos to choose from.
You will enjoy the brand new Sprat on a Stick.
See here for more info.
Subscription underpayments.
If members underpay we will hold your Sprats until we receive the balance. There will be a message indicating any underpayment on your Spring Sprat label. Once you have sent me (or your DX representative) the missing dues your remaining Sprats (to date) will be dispatched. Please do not send me coins in non UK currencies, the bank will not change them. UK coins you send at your own risk. Please do not just paypal the money without contacting me as I will need to advise you of the correct extra charge to cover paypal administration costs. (G7ENA)
---
Sprat 192 - 16/9/2022 - From G4WIF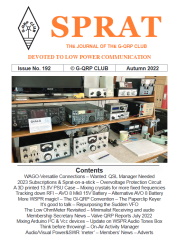 The latest Issue 192 (Autumn 2022) has been sent into the chaos that is the postal system.

Panic emails to club officers often suggest that Sprat is late. It is not. It is the Autumn issue and it looks like Autumn is just starting in my garden here in the UK. Some years the Autumn Sprat arrives late in early September and in other years, a little later. That's just the way it works out getting a slot in the printer/distributor schedule. Please understand that bulk mail can be unpredictable so please be patient and do not contact G7ENA until guidance dates provided on this page. For this issue, distribution should have finished by end September or early October (post permitting).
If your neighbour's Sprat arrives before yours please do not assume that yours would have traveled with it. They were probably packed in separate boxes, stacked on the loading dock of Portsmouth Sorting Office in a different pile and entered the postal system on completely separate days - or maybe different weeks. Overseas members Sprats may travel on different airplanes, ships, mule etc.
Bottom line, it can take weeks and writing to the club in the early weeks can't speed the process at all.
Remember: If your Sprat doesn't eventually arrive - or arrives with pages missing, please contact Daphne G7ENA and do not contact other club officers as you will only cause them extra work passing the message back to G7ENA.
---