G8PG Morse practice tapes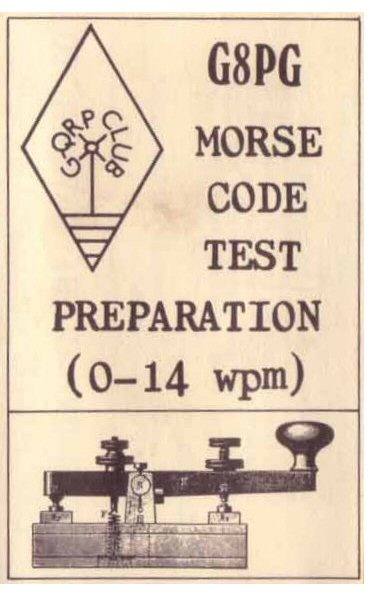 For many years the morse practice tapes created by Gus Taylor G8PG were the staple diet for aspiring class A licence holders. Many hundreds of copies were made until cassette tapes became "old hat" and we stopped producing them.
In the meantime, many alternatives, including some really good free ones have become available. One that comes to mind is the superb "Koch Morse Trainer" from Ray G4FON and his program can be downloaded from www.g4fon.net
However, when listening to the G8PG tapes it became apparent just how good Gus's practice sessions were and it would be a shame that they wouldn't be available in a media that people wanted nowadays. So I have sampled them into MP3 format and added a simple HTML menu so that it will run on any reasonably modern computer. It will certainly work within Internet Explorer 5 or above, although as it uses CSS menus, it looks better in IE6 (and beyond) and works fine in Firefox. You could of course simply transfer the files into your portable MP3 player.
Here is a PDF document with the CD contents.
Availability.
The morse CD is only available in the UK and USA. The club does not have distribution arrangement anywhere else. It is not available as a download nor will it be sent by email. We are calling this GQRP product "care-ware" and it will be in honour of Gus who died on April 23rd 2011 aged 91. The club will send all profits to registered cancer charities in both countries.

UK orders.

The price of the CD is £5.00 plus three second class stamps to cover costs and postage within the UK.

All proceeds will go to UK Cancer Research and cheques should be made payable to them.
Please do not ask to pay by other methods such as Paypal. This is not a club sales item.


Send orders to, Nigel Flatman G0EBQ.
2 Deben Valley Drive,Kesgrave,Suffolk IP5 2FB.

USA Orders

Joe KK5NA has agreed to make and distribute the G8PG morse CD in the USA.
Joe's chosen beneficery is the Susan G. Komen for the Cure charity.

Joe can be contacted at kk5na@kk5na.com if you have any questions.

The cost will be $8 and must be paid by a check made out to "Susan G Komen charity".
You must include with your order three USA 1st class (or "forever")
stamps and this will provide return postage, postage of your check to the charity and cover
Joe's production costs.

Send orders to:

J Spencer - KK5NA 1501 W. Division Arlington, TX 76012.