Howes Kits Archive
The GQRP club would like to thank Chris G3TUX for donating archive material for Howes Kits. Chris retains the copyright.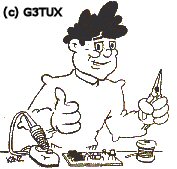 We are able to provide circuit diagrams and the instruction sheets for many of the Howes kits.

This service is only for people who actually have the kit and not for those that might like to make a "chinese copy". For that reason, please send a clear photograph of your kit with your request.

Please contact Tony G4WIF with your requirement, and if the club can help, we will be happy to.
All information will be provided in Adobe Acrobat format and sent by email only. Photocopies would take longer to produce with trips to the post office to weigh envelopes so you would then know how much postage to send - and of course - if you can read this web page then you can receive an email and get the reprints at no cost!

We also regret that for copyright reasons we cannot supply printed circuit board artwork.